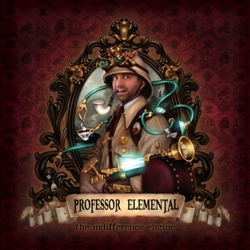 The Indifference Engine
by Professor Elemental
Album first released: 2011
Description: The Professor brings you his second album of tea and steam(punk) powered Chap Hop. Includes 'Cup of Brown Joy' and 'Fighting Trousers'.
Track listing for The Indifference Engine:
Track
Song title
Length
01.
Splendid
[02:39]
Buy MP3:
02.
Animal Magic
[02:41]
Buy MP3:
03.
Fighting Trousers
[03:03]
Buy MP3:
04.
Sweet Cold Coalition
[02:22]
Buy MP3:
05.
The Quest For The Golden Frog
[04:06]
Buy MP3:
06.
Elixir
[01:47]
Buy MP3:
07.
Fete Worse Than Death
[02:23]
Buy MP3:
08.
Steam Powered
[02:00]
Buy MP3:
09.
Penny Dreadful
[03:32]
Buy MP3:
10.
Cup of Brown Joy
[03:09]
Buy MP3:
More from Professor Elemental
Videos of songs by Professor Elemental:
Professor Elemental's thoughts on tea.
Chap hop battle: "I don't like your tweed sir!" is the rallying cry against Mr B, as he encroaches on Professor Elemental's chap hop turf.

Professor Elemental
The Indifference Engine

Buy MP3: