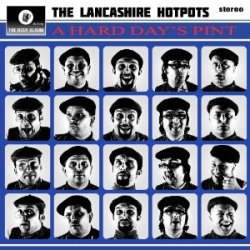 A Hard Day's Pint
by The Lancashire Hotpots
Album first released: 2012
Description: The Lancashire Hotpot's tribute album to that most wonderful of establishments: the pub.
Track listing for A Hard Day's Pint:
Track
Song title
Length
01.
Let's Get Leathered
[03:14]
Buy MP3:
02.
Bitter Lager Cider Ale Stout (2012)
[02:25]
Buy MP3:
03.
It's the Beer Talking
[02:22]
Buy MP3:
04.
The Perfect Pint
[01:46]
Buy MP3:
05.
I'll 'Ave One Wi' Yer (Lock In Mix)
[03:38]
Buy MP3:
06.
No Lock On The Door
[02:11]
Buy MP3:
07.
Designated Driver
[03:00]
Buy MP3:
08.
Did You Spill My Pint?
[02:36]
Buy MP3:
09.
The Barmaids Baps
[02:30]
Buy MP3:
10.
If I Had A Tardis
[03:05]
Buy MP3:
11.
The Beer Festival
[03:50]
Buy MP3:
12.
The Beer Olympics (2012)
[02:56]
Buy MP3:
13.
Last Man Standing
[04:01]
Buy MP3:
14.
Kebeblishment
[02:17]
Buy MP3:
More from The Lancashire Hotpots
Videos of songs by The Lancashire Hotpots:
BOGOFF
by The Lancashire Hotpots
Is it sales time again?
Sometimes you just want chips.
The Lancashire Hotpots are looking for something.
One of the Lancashire Hotpots seems to be wearing make-up...
The Lancashire Hotpots explain why everyone should get nervous at the mention of that certain four letter word: IKEA.
It's that special time of the year again...
A tribute to the beer festival.
The Lancashire Hotpots have come up with an idea to allow Great Britain to win something in the Olympics.
Useful advice for anybody using t'internet.
Uncle Bernard featuring Little Jonny - Live
A lot of reasons why you should go up the M6.
The Lancashire Hotpots tell you how to live: it's easy, eat or drink what you like.