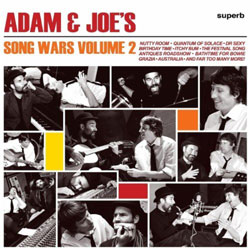 Song Wars Volume 2
by Adam and Joe
Album first released: 2010
Description: Adam & Joe's Song Wars Volume 2 is a 22 track collection of comedy songs written and performed by Adam Buxton & Joe Cornish. The songs were originally written for a feature called Song Wars, broadcast weekly on their Saturday morning BBC 6 Music show. For the feature, listeners vote for the best of two tracks the written around the same subject. In this album they present the best of those songs.
Track listing for Song Wars Volume 2:
Track
Song title
Length
01.
Festival Time
[02:44]
Buy MP3:
02.
Nutty Room
[01:34]
Buy MP3:
03.
Special Bath
[02:50]
Buy MP3:
04.
Happy Birthday Time!
[01:45]
Buy MP3:
05.
Quantum of Solace
[02:18]
Buy MP3:
06.
80s song
[02:04]
Buy MP3:
07.
Australia
[02:23]
Buy MP3:
08.
Bob Dylan's DVD box set
[01:41]
Buy MP3:
09.
Bums & Binge Drinking
[02:34]
Buy MP3:
10.
Coming Back from Holiday Blues
[02:10]
Buy MP3:
11.
The Mind of a Pirate
[03:00]
Buy MP3:
12.
Santum of Quolace
[02:12]
Buy MP3:
13.
Antiques Roadshow
[01:20]
Buy MP3:
14.
Baz Luhrmann's Australia
[02:10]
Buy MP3:
15.
Bathtime for Bowie
[01:49]
Buy MP3:
16.
This Week in Grazia
[01:37]
Buy MP3:
17.
Itchy Bum [Explicit]
[01:12]
Buy MP3:
18.
Song for Margaret Mountford
[01:52]
Buy MP3:
19.
Incredible Song
[01:42]
Buy MP3:
20.
Dr Sexy
[01:48]
Buy MP3:
21.
La-La-La-Lumley
[02:00]
Buy MP3:
22.
Hello Mr Ghost
[02:49]
Buy MP3:
More from Adam and Joe
News about Adam and Joe:

Wednesday, 2nd March 2011
Videos of songs by Adam and Joe:
A song about the Antique's Roadshow to the theme of the Antiques Roadshow
Adam Buxton reviews the film Australia in song.
A song from the perspective of a movie-style disturbed nutbag, originally from Song Wars on Adam & Joe's BBC6 Music radio show.
Joe Cornish's proposed theme tune for the Quantum of Solace, from Adam and Joe's Song Wars feature from their BBC6 Music show.
Joe Cornish's tribute to Margaret Mountford from the UK version of The Apprentice.
Adam Buxton's and Joe Cornish's football anthem written, not with the love of the game, but with pure profit in mind.
Adam and Joe dream about their typical morning routine... when they were in school.