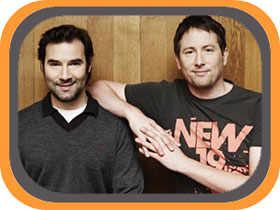 Wednesday, 2nd March 2011
Adam and Joe to return to BBC6 Music in April
Dr Buckles and Cornballs back at the Big British Castle on Saturday mornings!
The news all Adam and Joe fans have been waiting has finally been announced: They are to return to 6 Music on Saturday mornings for a 12 week run starting in April.
They have been away from 6 Music while Joe has been busy directing a film called Attack The Block (starring Nick Frost it's about a teen gang in South London defending their block from an alien invasion). Adam meanwhile... well here's what Adam had to say:
"I can't wait to get back to our show on Saturdays, I've really missed doing it. Not that I haven't been every bit as busy as Joe. I've created several new filing systems for my CDs and DVDs, successfully reunited over 20 odd socks with their partners and learned to understand the language of ants (though I'm finding Dec's more of a problem). It's been fun but I'm looking forward to talking rubbish and playing brilliant music with Joe again."
Whether this means the return of Song Wars too, is not mentioned, but here's hoping.
And here's a reason why any true fan of comedy songs should be pleased at their return, Adam Buxton's Festival Time: