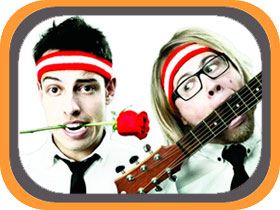 Anyone For Tennis?
"Anyone for Tennis? have really nailed musical comedy. "
-
Australian Comedy Review
.
They describe themselves as "Doody (glasses, long hair, beard) and Jase (no distinguishing features)" and they are Anyone for Tennis a musical comedy and sketch duo from Melbourne, Australia. You should look at some of their videos:
Sometimes it's not a good idea to think about what the person you will marry in the future is doing now...

Buy My Future Wife by Anyone For Tennis? from 7Digital, Amazon MP3 or iTunes
How about a comedy song where you decide what happens? Anyone For Tennis will provide..