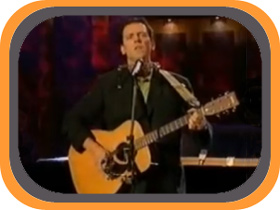 Hugh Laurie
"[Hugh Laurie] has a fantastic singing voice, which he'll never use, to my despair. And all because he's terrified of appearing cocky."
-
Stephen Fry
.
Way back before he became one of the most watched TV stars in the world thanks to his expert depiction of the acerbic character of Dr House in... erm... House*, Hugh Laurie was entertaining British shores with his comedy partner Stephen Fry using his normal accent.
As well as being an astonishingly good actor (both comedy and serious), Hugh Laurie is an amazing musician – whether he's playing guitar, piano, harmonica or just using his lips as a trumpet, he's an expert at it. He put his talents to great use when writing some songs for the comedy sketch show A Bit Of Fry and Laurie, some of which he has also performed again on a few American chat shows.
He's also plays the keyboards for Band From TV which includes actors from Desperate Housewives, Heroes and, of course, House… all doing their bit for charidee.
The piece de resistance of Hugh Laurie's comedy music canon for me is 'Mystery', a song describing the strange contradictions inherent in true love. Here is the original from the 1980s:
And here is an updated version rejigged for an American audience.
Hugh also created the perfect protest song, outlining exactly what we need to do to make the world a better place:
And for those who already know that Mr Laurie is the pinnacle of sophistication, here's a song proving that even those at the top of their game can lose that particular quality in certain circumstances:
And lastly, here's a simple song about the place he finally settled in...
* *A program which I recently found out was based on Sherlock Holmes: House = Holmes (complete with drug addiction and a house address of 221b), Wilson = Watson. But you already knew that right?