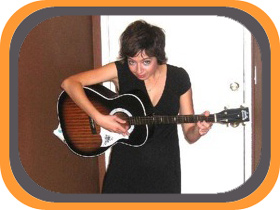 Kate Micucci
"Cute as a basketful of puppies, with a sing-song alto voice and a delicate, vulnerable quirkiness."
-
Chortle.co.uk
.
Kate Micucci is one half of Garfunkel and Oates, but she also performs songs on her own occasionally (hence this page). Her previous jobs have included being a sandcastle builder, and a bannana and pineapple plant waterer, but fortunately for us she's turned her talents to serenading us (and the occasional woodland deer) with delightful effect.
You may recognise Kate Micucci from Scrubs where she played a children's entertainer who became the unlikely girlfriend of everyone's favourite ineffectual hospital lawyer Ted. Early on in their relationship she sings a duet with Ted - a toned down version of a Garfunkel and Oates song called 'Screw You' (the original tile was not quite as gentle). This version is simply adorable. Sorry, but it is.
She's also sang this pleasingly upbeat song about prom night with William H Macy (yes, you know, the one from the film Fargo) to promote the film Bart Got A Room:
And then there's 'Dear deer' her endlessly sweet warning to woodland life about the hunters with shotguns (including her father) out to get them:

Kate Micucci
Songs (EP)

Buy MP3:

Some great comedy singers' DVDs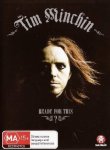 Tim Minchin
Ready For This?

Buy DVD: