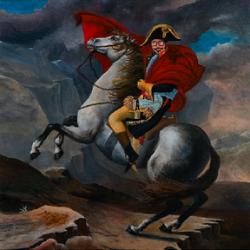 I Say
by Mr B The Gentleman Rhymer
Album first released: 2011
Description: Mr B (a 21st century cross between Noel Coward, Viv Stanshall, Chuck D and Terry Thomas) has finally released his follow-up album to his 12-track debut CD Flattery Not Included. 'I SAY!' is a 15-track must-have for all lovers of Chap Hop banjolele, Music Hall Acid, and Aristo-Rock. (Currently only available from eBay.)
Track listing for I Say:
Track
Song title
Length
01.
Hail the Chap
02.
Lord Byron
03.
Shoot the Cuff
04.
You Just Can't
05.
Guy Debord
06.
How Many Brilliant Minds Are Lost to Work?
07.
A Thoroughly Modern Break-up
08.
I Say, You!
09.
Everything Stops for Acid
10.
Hermitage Shanks
11.
Crazy Knights
12.
Lady C
13.
Let's Get This Over and Done With
14.
The Impossible Dream
15.
Songs For Acid Edward
More from Mr B The Gentleman Rhymer
Videos of songs by Mr B The Gentleman Rhymer:
Mr B charts the history of Chap Hop... on his Ukelele
Mr B describes his favourite retreat.
Mr.B's celebration of Chappism (with guest appearance from Professor Elemental).
The Second in Mr.B's 'Histories' series: Seven rave classics. In five minutes. On the Banjolele.
Mr B takes a moment to reflect on the football.
Mr B The Gentleman Rhymer CDs

Mr B The Gentleman Rhymer
Flattery Not Included

Buy CD:


Mr B The Gentleman Rhymer
I Say

Buy CD: