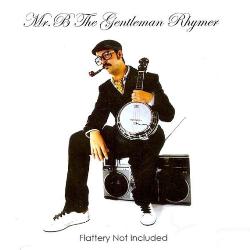 Flattery Not Included
by Mr B The Gentleman Rhymer
Album first released: 2008
Description: Mr B's debut album featuring 'Chap Hop History' and 'Straight Out Of Surrey'. A must for any keen aficionado of Chap Hop. (Currently only available from eBay.)
Track listing for Flattery Not Included:
Track
Song title
Length
01.
A Piece of My Mind/Straight Out Of Surrey
02.
Timothy
03.
Sherry Monacle
04.
Let Me Smoke My Pipe
05.
The Very Model
06.
The Crack Song
07.
More Kissing in Porn Please, We're British!
08.
Mansion House
09.
Beats, Rhymes & Manners
11.
There'll Always Be Some Hip-Hop
More from Mr B The Gentleman Rhymer
Videos of songs by Mr B The Gentleman Rhymer:
Mr B charts the history of Chap Hop... on his Ukelele
Mr B describes his favourite retreat.
Mr.B's celebration of Chappism (with guest appearance from Professor Elemental).
The Second in Mr.B's 'Histories' series: Seven rave classics. In five minutes. On the Banjolele.
Mr B takes a moment to reflect on the football.
Mr B The Gentleman Rhymer CDs

Mr B The Gentleman Rhymer
Flattery Not Included

Buy CD:


Mr B The Gentleman Rhymer
I Say

Buy CD: