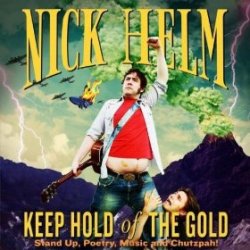 Keep Hold of the Gold
by Nick Helm
Album first released: 2011
Description: A recording of Nick Helm's 2010 Edinburgh show. Keep Hold Of The Gold, features "He Makes You Look Fat", "I Don't Want To Work In Admin" and other songs, as part of the full length show.
"A big, bearded, volatile, bruiser of a man (think Justin Lee Collins with anger control issues), his Keep Hold Of The Gold show demonstrates that when life gives you lemons it makes you feel better if you scream in life's face." Chortle

"He is loud, brash and very very funny... thoroughly entertaining ... exceptionally well written songs that, once you get into his style of humour, are not only hysterical but also have a very poignant message to express... A very enjoyable experience overall." Hairline
Track listing for Keep Hold of the Gold:
Track
Song title
Length
01.
Introducing… Carmen
[04:44]
Buy MP3:
02.
Keep Hold of the Gold
[01:55]
Buy MP3:
03.
Nice to Meet You
[04:41]
Buy MP3:
04.
13 or 14 Thirteen or Fourteen Year Olds
[05:15]
Buy MP3:
05.
Don't Wanna Work In Admin
[03:25]
Buy MP3:
06.
Busy Bee
[01:39]
Buy MP3:
07.
He Makes You Look Fat
[03:47]
Buy MP3:
08.
Tinned Telephone
[04:32]
Buy MP3:
09.
This Is Called.. I Hope I Die First
[03:22]
Buy MP3:
10.
Girlfriend
[01:12]
Buy MP3:
11.
I Fancy the Pants Off You
[03:54]
Buy MP3:
12.
Gin
[01:12]
Buy MP3:
13.
Interesting Thing About Pineapples...
[04:21]
Buy MP3:
14.
You Gotta Believe In Yourself
[05:59]
Buy MP3:
More from Nick Helm
News about Nick Helm:

Friday, 30th November 2012
Videos of songs by Nick Helm:
Nick Helm and The Helmettes explain about their aspirational career dreams.
The problem with choosing two good looking a partner...

Nick Helm
Keep Hold of the Gold

Buy MP3:


Some great comedy singers' DVDs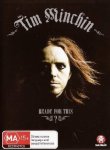 Tim Minchin
Ready For This?

Buy DVD: