Album first released: 2013
Description: Andy Smith describes his perfect woman.
Track listing for Candice:
Track
Song title
Length
01.
Candice
[02:53]
Buy MP3:
More from Andy Smith
Videos of songs by Andy Smith:
Sometimes even babies get the blues...
Young love needs a place too...
A song about passion in the twilight years of life.

Andy Smith
Seven Day Weekend

Buy CD:


Andy Smith
Candice

Buy MP3:


Some great comedy singers' DVDs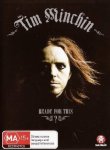 Tim Minchin
Ready For This?

Buy DVD: