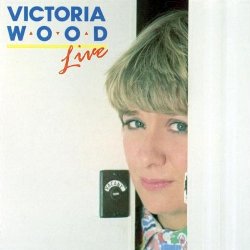 Victoria Wood: Live
by Victoria Wood
Album first released: 1988
Description: "48 minutes of sidesplitting gusset clutching dangerously humorous comedy" from the BAFTA award winning comedienne. Includes the songs 'It Would Have Never Worked' and 'Barry And Freda' as well as brilliant skits on Hospital, Holidays and Sex.
Track listing for Victoria Wood: Live:
Track
Song title
Length
01.
Happy to Be Here (Where Was It Again?)
[17:54]
Buy MP3:
02.
It Would Never Have Worked
[02:38]
Buy MP3:
03.
Hospital / Holidays / Sex
[21:39]
Buy MP3:
04.
Barry and Freda
[05:13]
Buy MP3:
More from Victoria Wood
Videos of songs by Victoria Wood:
Victoria Wood's song about the act of physical love making - it's very short.