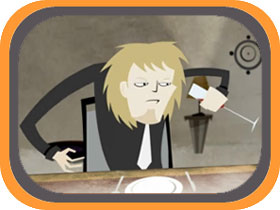 Friday, 8th April 2011
Tim Minchin gets animated on YouTube
DC Turner releases his interpretation of Tim's beat poem Storm
It's been two and a half years in the making, but Dan C Turner and Tracy King have finally finished their animated version of Tim Minchin's wonderful 9-minute beat poem 'Storm' and have released it for free on YouTube. Even before its release today it was long-listed for an Animated Short Film BAFTA and it's easy to see why.
The song was ripe for conversion to cartoon, it's a brilliant song about... well, I'll let the Storm Movie team explain: "In the confines of a London dinner party, Tim argues with a hippy named Storm. While Storm herself may not be converted, audiences from London to Sydney have been won over by Tim's wordplay and the timely message of the piece in a society where science is attacked as the enemy of religion, alternative medicine given credence and public funding, and psychics have prime time TV exposure." You can read more about the animation's history on the Storm Movie site.
Tim too is very pleased by their creation. As he says on his blog: "I'm incredibly excited that DC Turner's wondrous animation of my large and ranty beat-poem, Storm, has finally been released online."
Let's leave the final word to Director and Animator Dan: "Making Storm has been an exhilarating, terrifying experience, and I am endlessly grateful to everybody who worked on the film. Now stop reading this and watch the film." And as you are probably itching to do just that, here it is:

Buy Storm by Tim Minchin from 7Digital, Amazon MP3 or iTunes