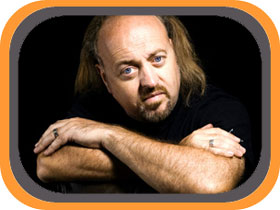 Wednesday, 2nd November 2011
Bill Bailey's new CD 'In metal' out now
Co-incides with his latest Dandelion Mind tour
Bill Bailey's latest CD 'In Metal' is a chance to hear some of his classic songs and a couple of newer songs he has re-recorded in the form of heavy metal and solid rock. As Bill's site says: "Bill is delighted with this album as he believes that he has finally captured these songs as he has always heard them in his head."
It goes on to say the nine tracks on the album "were forged in the furnance of the Saturn Stage at the Sonisphere festival at Knebworth and hammered into shape in a studio with the voodoo brilliance of a superb band of musical sorcerers." Here's the track list:

1. Lazer Gazer
2. Leg of Time (Metal Version)
3. Love Song (Metal Version)
4. Apocalyptic News (Metal Version)
5. Scarborough Fair (Rammstein Style)
6. Cars (Metal Version)
7. Das Hokey Kokey (Metal Version)
8. Oblivion (Metal Version)
9. Pot Plant Elegy (Metal Version)


Bill's band on Bill Bailey In Metal are: Jason Bowld (drums) who has previously pummelled his double kick for the likes of Killing Joke, Pop Will Eat Itself and his own project This Is Menace. Trevor Dawkins is on bass. Trevor has worked with many music legends in his time, touring with artists as diverse as Diana Ross and The Stranglers as well as with Bill on his Tinselworm and current Dandelion Mind tour. Synth wizard Dean Deavall brings his magic to the keyboards and is currently a member of indie-rock giants Feeder. James 'Jimi Love' Madison plays guitar and when not working with Bill one of his regular projects sees him don the high heels and paisley as the front man of the UK's most popular Prince tribute band Purple Rain. The whole shebang was produced by Al Ashford and mixed by Matt Lawrence using rather beautiful examples of analogue kit.
Bill is also now getting all warmed up for the forthcoming (Gently Modified) Dandelion Mind UK Tour. This newest version of the show (which was first performed in the Highlands of Scotland) features the favourites plus all new material including: "Bill's trademark musical interludes, observations and stories of the road, Dandelion Mind is based loosely on the theme of doubt, plus barely contained rants about celebrity, TV, and Michael Winner. He demonstrates new instruments, both ancient and modern, he sings an internet love song, a lament about punk heroes, Iranian hip-hop and plays a mean folk-bouzouki."
To get you in the mood for the album and the tour, here's Bill's tribute to Metallica before the Sonisphere festival:
Some great comedy singers' books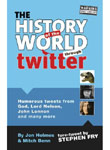 Mitch Benn
The History Of The World Through Twitter

Buy book: