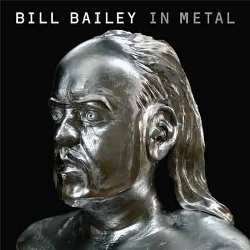 Album first released: 2011
Description: A collection of nine solid rock tracks forged in the furnance of the Saturn Stage at the Sonisphere festival at Knebworth in 2011 and hammered into shape in a studio with the voodoo brilliance of a superb band of musical sorcerers.

Bill Bailey in Metal should delight both metal and non-metal fans alike as Bill blends his inimitable genre-fusing, with foreign language frolics and meaningful whimsy. These new full studio versions of Bill's most popular songs are accompanied by two instrumentals in the shape of Lazer Gazer and Pot Plant Elegy (Metal Version) tracks that usually form the musical soundtrack to the short films that have been a popular feature of Bill's stage show. During the rehearsals for these sessions Bill's band expanded and twisted these pieces so brilliantly, he just knew that they should be included on the album.
Track listing for In Metal:
Track
Song title
Length
01.
Lazer Gazer
[01:28]
Buy MP3:
02.
Leg of Time (Metal Version)
[03:00]
Buy MP3:
03.
Love Song (Metal Version)
[03:35]
Buy MP3:
04.
Apocalyptic News (Metal Version)
[03:02]
Buy MP3:
05.
Scarborough Fair (Rammstein Style)
[03:32]
Buy MP3:
06.
Cars (Metal Version)
[02:57]
Buy MP3:
07.
Das Hokey Kokey (Metal Version)
[01:49]
Buy MP3:
08.
Oblivion (Metal Version)
[03:19]
Buy MP3:
09.
Pot Plant Elegy (Metal Version)
[01:42]
Buy MP3:
More from Bill Bailey
News about Bill Bailey:

Wednesday, 2nd November 2011
Thursday, 3rd March 2011
Videos of songs by Bill Bailey:
A song about love gone sour from the eminent Mr Bill Bailey.
Bill Bailey's special message to Metallica as he prepares for Sonisphere 2011.
The wonders of texting.
Some great comedy singers' books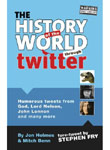 Mitch Benn
The History Of The World Through Twitter

Buy book: