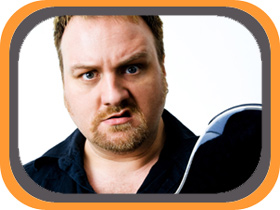 Mitch Benn
"The great thing about Mitch Benn is that his music enhances the comedy rather than replacing it."
-
Julia Chamberlain, Chortle.co.uk
.
It's true that I've had a Mitch Benn album on in the house with guests around and the music is so good that they haven't even noticed that it's a comedy album (until I tell them all to shut up as I'm trying to listen to the really good bit – yes, they do leave soon after that, why do you ask?). What I'm trying to say is he writes proper songs, which also turn out to be hilariously funny. Good eh?
Mitch Benn has been on the scene since 1994 and is one of the most musically talented writer/performers of satirical comic songs in the UK. Mostly topical creations, it seems there's no musical genre he can't turn his hand to – from thrash metal in 'Never mind the song look at the stageset' to mocking trashy Andrew Lloyd Webber tourist-fests in his mini-West End production 'West End Musical' to spoofing the Beatles eerily well in 'Please don't release this song' – his talent for mimicry and nailing the perfect tone of the artist he's caricaturing is almost creepy.
Trying to pick my best songs for Mitch Benn, is like trying to choose my favourite pick 'n' mix in the cinema: "Oh, I like those, but those are my favourite, no, those are my favourite, but those are great too," and so on. To stretch the metaphor even further, soon I've spent the national debt of Slovenia and yet when I get to my seat I still kick myself for forgetting the red and green cherries. Anyway, here goes... One of my true favourites, the red and green cherry on the top, if you like, is Pop Idol parody 'Sing like an Angel', wonderfully accompanied here by Rick Wakeman himself.
Those who are a little older are likely to appreciate the song 'Smiths phase', a song guaranteed to divide an audience. Personally, I couldn't agree more with his sentiments... but what do I know?
But we are forgetting the wonderful satirist that Mitch Benn is, and nothing evinces this as much as the poignant, sad and wonderful 'Happy Birthday War':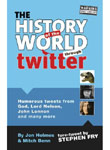 Mitch Benn
The History Of The World Through Twitter

Buy book: