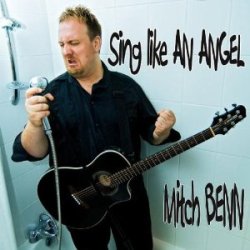 Album first released: 2008
Description: From his 2008 Sing Like An Angel tour, here's Mitch Benn singing some comedy classics. The album includes the excellent 'Sing Like An Angel', 'Happy Birthday War' and 'Size Zero'.
Track listing for Sing Like an Angel:
Track
Song title
Length
01.
Rubbish
[03:43]
Buy MP3:
02.
Dick Rowe
[03:03]
Buy MP3:
03.
State Of Emergency
[02:04]
Buy MP3:
04.
Richard Dawkins
[02:18]
Buy MP3:
05.
Happy Birthday War
[02:59]
Buy MP3:
06.
Get Out Of That Tree
[02:06]
Buy MP3:
07.
Sing Like An Angel
[04:41]
Buy MP3:
08.
What Have You Done To My Eyes
[02:08]
Buy MP3:
09.
Ceasefire
[01:48]
Buy MP3:
10.
Size Zero
[02:39]
Buy MP3:
11.
Floating Voters
[02:35]
Buy MP3:
12.
Alternative Energy Song
[04:32]
Buy MP3:
13.
Not Everybody Has To Imagine
[01:56]
Buy MP3:
More from Mitch Benn
Mitch Benn page on Comedy-Songs:

Julia Chamberlain, Chortle.co.uk.
News about Mitch Benn:

Friday, 25th March 2011
Videos of songs by Mitch Benn:
Mitch Benn creates the perfect Xmas song.
Doctor Who has ruined relationships for Mitch Benn. Here's why.
Mitch Benn explores Coldplay's influence on music in the noughties.
Mitch Benn's break up song.