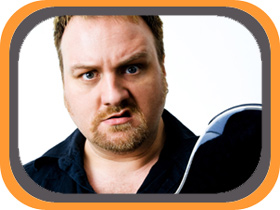 Friday, 25th March 2011
Mitch Benn Music Podcast no. 6 now out
Comedy song podcast showcasing new talent proves popular
Mitch Benn's music podcast showcasing new talent in the comic songwriting world is going from strength to strength, and as fine a place as any to hear some great new funny songs. Episode 6 is available at his website.
Mitch Benn had the idea in February: "Literally a few days ago I thought it might be fun to start a podcast showcasing the work of newish or jobbing comic songwriters," he explained on his blog, "I put the word out on Twitter that I was looking for submissions and within about 48 hours I had enough for two or three shows." And it has proved popular: the podcast has been getting 2,500 downloads a day and has been featured in iTunes's comedy top 10.
If you fancy getting involved it's easy to do - just check out the submission guidlines on this blog post.
And here's an example of someone who did, the rather pleasing poet and singer Jude Simpson with her song 'Let's make a baby':