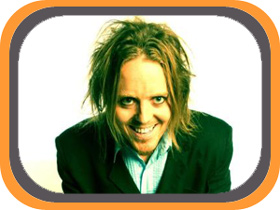 Thursday, 22nd December 2011
Tim Minchin song cut from Jonathan Ross show
ITV's director of television Peter Fincham demands its removal
Tim Minchin has created a whole new song for the Jonathan Ross show. The only problem is that despite it being recorded, edited and ready for broadcast, it won't be shown. It's called 'WoodyAllenJesus' and deals with Tim's distinctive view of Jesus Christ. Always a good choice at Christmas ;-) And, no doubt, with this kind of worry in mind, ITV's director of television Peter Fincham cut it from the show.
Tim is, understandably, not happy about it. On his blog he described the song: "The idea was to compare him [Jesus] to Woody Allen (short, Jewish, philosophical, a bit hesitant), and expand into redefining his other alleged attributes using modern, popular-culture terminology. It's not a particularly original idea, I admit, but it's quite cute"
Tim believes that Peter Fincham did this because: 'he's scared of the ranty, sh*t-stirring, right-wing press, and of the small minority of Brits who believe they have a right to go through life protected from anything that challenges them in any way." And to be fair, he's probably right.
Still, we here at comedy-songs.com believe you should make you own mind up, so here, care of Tim, is 'WoodyAllenJesus' in its entirety: