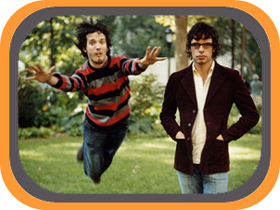 Flight of the Conchords
"New Zealand's fourth most popular guitar-based digi-bongo acapella-gangsta-rap-funk-folk comedy duo"
-
Flight of the Conchords
.
I'd be surprised if you hadn't already heard of Flight of the Conchords what with their massively popular television series and their massively popular radio series and their massively popular YouTube... erm... popularity (18 million hits for one song)... well, you get the idea. Either way, they are still very much worth mentioning again. So I will.
Okay, band meeting: Flight of the Conchords are made up of Brett Mckenzie (Here), Jermaine Clement (Here) and in the TV series bearing their name, are expertly mis-managed by Murray Hewitt (Here) – who, as well as being Deputy Cultural Attaché at the New Zealand consulate also occasionally contributes his voice to their musical creations, for example the rather excellent 'Leggy Blonde' (see below).
Championed by comedian Rob Brydon in the UK to get them onto BBC Radio, the show was then picked up by HBO to create the cult TV series which showed the two New Zealanders trying to crack the American novelty folk music scene. In all incarnations, Brett and Jermaine bumble through life, occasionally breaking into song to explain what's on their mind.
Flight of the Conchords may now be a household name, but as they show in 'Inner City Pressure', they've experienced bad, nay shocking times:
In their many great songs Brett and Jermaine have returned again and again to the theme of love, and in fact, you can use their musical creations to follow the full life cycle of a typical relationship…

To start with, in the song 'The Most beautiful Girl In The Room', Jermaine notices a lovely lady at a party...
Then in 'Business Time', Jermaine imagines a strangely domesticated and rather more honest than torrid sex scene with the lady he'd like to be his future girlfriend…

Buy Business Time by Flight of the Conchords from 7Digital, Amazon MP3 or iTunes
Sadly, sometimes things just don't work out, and, well, The Flight of The Conchords, they've got a song for that:
Don't worry though, there's always someone else around the corner. Here, Brett explores those tentative steps in finding out just what a new prospective partner likes to do:
And lastly, just not to miss him out, here's Murray lamenting the loss of a popular office member:
Flight of the Conchords CDs

Flight of the Conchords
Flight of the Conchords

Buy CD:




Buy MP3:





Flight of the Conchords
I Told You I Was Freaky

Buy CD:





Buy MP3:



Some great comedy singers' DVDs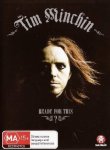 Tim Minchin
Ready For This?

Buy DVD:




Some great comedy singers' books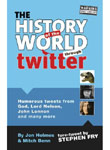 Mitch Benn
The History Of The World Through Twitter

Buy book: