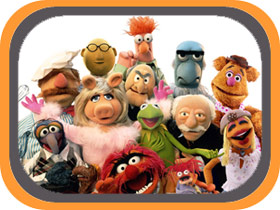 The Muppets
"WALDORF: They aren't half bad.
STATLER: Nope, they're ALL bad!"
-

Waldorf and Statler, The Muppets' own hecklers
.
The Muppets are certainly no strangers to musical comedy, they've been providing us with their own tributes to songs new and old for as long as they've been around.
Each Muppet has his own singing talent to bring to the fore. Well, I say talent, but I guess I mean peculiarity... Kermit at least, can hold a tune, but the others? Well, from the incoherent Animal (the drummer in the Muppet's house band) to the monosyllabic Beaker (Dr Bunsen Honeydew's accident-prone lab assistant), to the Swedish erm... Swedish Chef, each character, well, tries their best.
As proof, here are the latter three in the Muppet's own rendition of the Irish classic Danny Boy. It truly brings a tear to the eye:
Oddly, of all the Muppets, it is Beaker's output that generally gets the most attention. You would imagine that having a vocabulary of only one word would get in the way of music stardom, but usually, it's something else that stops him. As proof, here's Beaker singing Ode to Joy:
Sometimes the Muppets produce large-scale productions which all the cast get to have a go in, like when they collaborated with Queen, yes, Queen, to produce A Muppet version of Bohemian Rhapsody. Enjoy:
Of course, you don't need lavish productions like that to produce a hit, often it's the simplest ideas that are the best, and here's the Muppet's version of Mah Nà Mah Nà to prove it:

The Muppets
Bohemian Rhapsody

Buy MP3:



The Muppets
Popcorn

Buy MP3:



The Muppets
Muppets: The Green Album

Buy CD:





Buy MP3:



Some great comedy singers' DVDs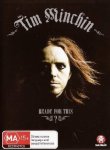 Tim Minchin
Ready For This?

Buy DVD: