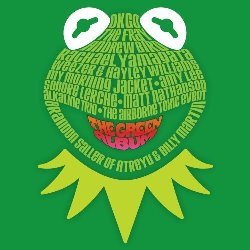 Album first released: 2011
Description: Muppets: The Green album follows in the footsteps created by Nightmare Revisited and Almost Alice where contemporary artists put their unique sound to memorable Disney franchises. 12 classic Muppets songs like It's Not Easy Being Green, Muppets Show Theme, Rainbow Connection are performed by rock and alternative artists such as The Fray, OK-GO, Weezer and My Morning Jacket.
Track listing for Muppets: The Green Album:
Track
Song title
Length
01.
The Muppet Show Theme Tune (with OK GO)
Buy MP3:
02.
Rainbow Connection (Weezer/Hayley Williams)
[04:00]
Buy MP3:
03.
Mahna Mahna (The Fray)
[02:13]
Buy MP3:
04.
Movin' Right Along (Alkaline Trio)
[02:33]
Buy MP3:
05.
Our World (My Morning Jacket)
[03:05]
Buy MP3:
06.
Halfway Down The Stairs (Amy Lee)
[02:25]
Buy MP3:
07.
Mr Bassman (Sondre Lerche)
[02:41]
Buy MP3:
08.
Wishing Song (The Airborne Toxic Event)
[02:47]
Buy MP3:
09.
Night Life (Billy Martin/Brandon Saller)
[02:59]
Buy MP3:
10.
Being Green (Andrew Bird)
[04:10]
Buy MP3:
11.
I Hope That Something Better Comes Along (Matt Nathanson)
[02:42]
Buy MP3:
12.
I'm Going To Go Back There Someday (Rachael Yamagata)
[04:16]
Buy MP3:
More from The Muppets
The Muppets page on Comedy-Songs:

STATLER: Nope, they're ALL bad!" -

Waldorf and Statler, The Muppets' own hecklers.
News about The Muppets:

Tuesday, 23rd August 2011

Tuesday, 20th July 2010
Videos of songs by The Muppets:
Beaker from The Muppets attempts his own version of Ode to Joy.
Queen's Bohemian Rhapsody as interpreted by the cast of The Muppets.
Animal, Beaker and The Swedish Chef from The Muppets sing Danny Boy.
The Muppets sing Mah Nà Mah Nà. And that's all they do.
The Swedish Chef from the Muppets uses the tune Popcorn to help advise on the best method to use in the preparation of popcorn... and, erm... shrimps.
OK Go and The Muppets? Aaaargh!

The Muppets
Bohemian Rhapsody

Buy MP3:



The Muppets
Popcorn

Buy MP3:



The Muppets
Muppets: The Green Album

Buy CD:





Buy MP3:



Some great comedy singers' DVDs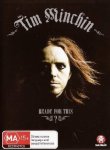 Tim Minchin
Ready For This?

Buy DVD: