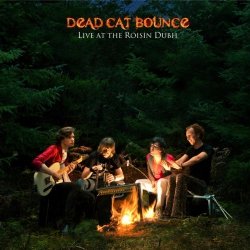 Live At the Roisin Dubh
by Dead Cat Bounce
Album first released: 2011
Description: Dead Cat Bounce's second EP recorded live at the Roisin Dubh, Galway. Includes the song 'Christians in Love'.
"Musical comedy of almost stellar proportions… They harness a heady combination of Tim Minchin's exuberance, Tom Lehrer's twisted wordplay and Billy Connolly's folk-song storytelling. The results are often electrifying." – Fest
Track listing for Live At the Roisin Dubh:
Track
Song title
Length
01.
Mary
[04:54]
Buy MP3:
02.
Christians in Love
[03:49]
Buy MP3:
03.
My Party Now
[03:44]
Buy MP3:
04.
Girl's Night
[03:01]
Buy MP3:
05.
Narcoleptic
[01:15]
Buy MP3:
06.
Cheeky Little Wine
[02:39]
Buy MP3:
07.
Outsized Orthopaedic Shoe
[03:16]
Buy MP3:
08.
Good Touch, Bad Touch
[01:27]
Buy MP3:
09.
Pigeons & Pirates
[04:29]
Buy MP3:
10.
Firemen
[02:45]
Buy MP3:
11.
Human Statue
[03:33]
Buy MP3:
12.
The Weeping of the Willows
[04:10]
Buy MP3:
More from Dead Cat Bounce
Videos of songs by Dead Cat Bounce:
A song for those who take marriage seriously. And the fumblings which may occur because of this.
A typical night out with Dead Cat Bounce.
How to hide a secret love...

Dead Cat Bounce
Live At the Roisin Dubh

Buy MP3:



Dead Cat Bounce
Live At The Sugar Club

Buy MP3:



Dead Cat Bounce
Live At Vicar Street

Buy MP3: