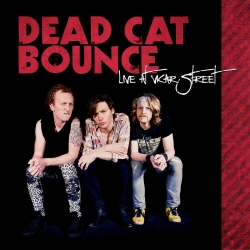 Live At Vicar Street
by Dead Cat Bounce
Album first released: 2012
Description: Dead Cat Bounce recordeded live at Vicar Street on 24 February 2012.
"An exercise in studied brilliance, nailing every music genre from hair metal to power ballad to R&B" – The Irish Times

"Made me cry with laughter... These boys are without doubt destined to be huge." – The Observer

"Forget all the Spinal Tap comparisons, DCB rock harder and in their own unique style." – Phil Jupitus, The Independent (UK)

"One of the funniest damn acts on the planet." – Time Out, Sydney

"On a glitter-sprinkled rocket ship to global domination" – Hot Press

"Comedically perfect." – The Dubliner
Track listing for Live At Vicar Street:
Track
Song title
Length
01.
Border Control
[04:05]
Buy MP3:
02.
Christians In Love
[04:08]
Buy MP3:
03.
Older Woman
[00:37]
Buy MP3:
04.
Kayaking
[04:21]
Buy MP3:
05.
Leeroy The Homophobic Penguin
[03:43]
Buy MP3:
06.
Cheeky Little Wine
[03:35]
Buy MP3:
07.
Down On The Farm
[02:14]
Buy MP3:
08.
Outfits
[02:37]
Buy MP3:
09.
Golf!
[01:53]
Buy MP3:
10.
Really Tall Woman
[03:19]
Buy MP3:
11.
Comedy Drum & Bass
[00:58]
Buy MP3:
12.
Let's Make Love (To My Brand New Dead Cat Bounce CD)
[03:31]
Buy MP3:
13.
Cormac The Dancing Accountant
[03:44]
Buy MP3:
More from Dead Cat Bounce
Videos of songs by Dead Cat Bounce:
A song for those who take marriage seriously. And the fumblings which may occur because of this.
A typical night out with Dead Cat Bounce.
How to hide a secret love...

Dead Cat Bounce
Live At the Roisin Dubh

Buy MP3:



Dead Cat Bounce
Live At The Sugar Club

Buy MP3:



Dead Cat Bounce
Live At Vicar Street

Buy MP3: