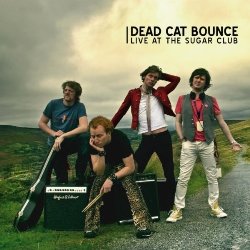 Live At The Sugar Club
by Dead Cat Bounce
Album first released: 2009
Description: Dead Cat Bounce's EP recorded live at the Sugar Club, Dublin in September 2009. Includes the songs 'Four Lads' and 'Over-enthusiastic Contraceptive Lady'.
"An exercise in studied brilliance, nailing every music genre from hair metal to power ballad to R&B" - The Irish Times
Track listing for Live At The Sugar Club:
Track
Song title
Length
01.
Switzerland
[04:06]
Buy MP3:
02.
Overenthusiastic Contraceptive Lady
[02:22]
Buy MP3:
03.
Midget
[02:48]
Buy MP3:
04.
Rugby
[02:26]
Buy MP3:
05.
That Summer When We Killed That Guy
[02:12]
Buy MP3:
06.
In Da Club
[02:50]
Buy MP3:
07.
Four Lads
[04:13]
Buy MP3:
More from Dead Cat Bounce
Videos of songs by Dead Cat Bounce:
A song for those who take marriage seriously. And the fumblings which may occur because of this.
A typical night out with Dead Cat Bounce.
How to hide a secret love...

Dead Cat Bounce
Live At the Roisin Dubh

Buy MP3:



Dead Cat Bounce
Live At The Sugar Club

Buy MP3:



Dead Cat Bounce
Live At Vicar Street

Buy MP3: