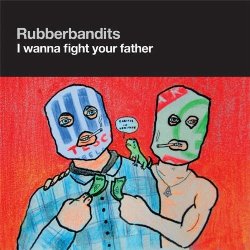 I Wanna Fight Your Father
by Rubberbandits
Album first released: 2011
Description: The EP of the Rubberbandits 'I Wanna Fight Your Father'. They describe it like this: "Horse Outside was the sound of Christmas 2010 and the Rubberbandits are currently the biggest live draw in Ireland. Now after over 6 million Youtube views, 40,000 downloads and 30 sold out live dates all over the country, it's time for the next instalment. If Horse Outside was a song about boy meets girl and beating the bad guys, the Rubberbandits new single is the one where the boy is willing to be maimed forever to prove his love. Accompanied by an amazing video which involved 60 extras , 3 animal wranglers and 500lb of Cod from Limerick's Donkey Fords chipper, the new Rubberbandits single will be sung from every street corner this Spring."
Track listing for I Wanna Fight Your Father:
Track
Song title
Length
01.
I Wanna Fight your Father
[03:29]
Buy MP3:
02.
I Wanna Fight your Father (Loads of Curses)
[03:29]
Buy MP3:
03.
I Wanna Fight your Father (Instrumental)
[03:29]
Buy MP3:
04.
I Wanna Fight your Father (As Gaeilge)
[03:50]
Buy MP3:
More from Rubberbandits
News about Rubberbandits:

Thursday, 15th March 2012
Videos of songs by Rubberbandits:
The Rubberbandits are looking for the perfect person to complete their gang. Could it be you?
There's always one friend like this...
Hipster or hobo? Sometimes it's hard to tell...
Forget your Mitsubishis and your Subarus, the Rubberbandits know how to impress the bridesmaids...
One way to deal with your potential father in law...
How do you deal with a problem like Danny Dyer?

Rubberbandits
I Wanna Fight Your Father

Buy CD:


Buy MP3:



Rubberbandits
Horse Outside

Buy CD:


Buy MP3: