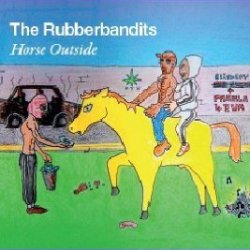 Horse Outside
by Rubberbandits
Album first released: 2010
Description: The EP of the Rubberbandit's 'Horse outside' anthem. It describes itself like this: "It's finally here, it's The Rubberbandits first ever single, prepare to be blown. It's the most eagerly anticipated music event of the year. 30 sold outshows in the last 3 months, winners of Sexiest Video at the prestigious IMTV Awards, the highest YouTube viewing figures this country has ever seen and 2 of the most unlikely musical talents ever imagined, it's the Rubberbandits first ever single, it's - Horse Outside and it's clocked up up a massive 1.75 million You tube views in the last 6 day since debuting on RTE's Republic of Telly last Wednesday Prepare yourself for brilliance. It has gone to No. 1 on the iTunes Irish Chart. The Rubberbandits have blazed a trail over the last year with historic appearances at Electric Picnic, being the most viewed act on you tube in the country, selling out shows from Limerick to London and all points in between and even joining the esteemed ranks of Jonathon Swift and Nelson Mandela in addressing Trinity College's Philisopical Society, not bad going for 2 ghouls from Limerick City. With lyrics that would put Joyce himself to shame, Horse Outside is a love song about a boy, other boys, a girl and the best way to get one over on the world."
Track listing for Horse Outside:
Track
Song title
Length
01.
Horse Outside
[03:37]
Buy MP3:
02.
Horse Outside
[03:36]
Buy MP3:
03.
Horse Outside (Instrumental)
[04:20]
Buy MP3:
04.
Too Many Gee
[04:48]
Buy MP3:
05.
Hash Party
[02:04]
Buy MP3:
More from Rubberbandits
News about Rubberbandits:

Thursday, 15th March 2012
Videos of songs by Rubberbandits:
The Rubberbandits are looking for the perfect person to complete their gang. Could it be you?
There's always one friend like this...
Hipster or hobo? Sometimes it's hard to tell...
Forget your Mitsubishis and your Subarus, the Rubberbandits know how to impress the bridesmaids...
One way to deal with your potential father in law...
How do you deal with a problem like Danny Dyer?

Rubberbandits
I Wanna Fight Your Father

Buy CD:


Buy MP3:



Rubberbandits
Horse Outside

Buy CD:


Buy MP3: