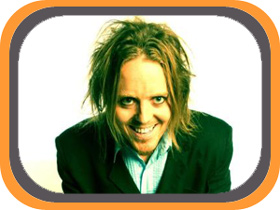 Sunday, 13th May 2012
One-off Tim Minchin comedy songs
6 songs specifically written for TV shows and not released anywhere else
Tim Minchin is a prolific songwriter and performer, and never is this more evident that when he knocks out a classic one-off comedy song for a guest appearance on a TV show.
This is especially impressive as most of these songs are so tailored to the shows they were written for that they cannot be used anywhere else. Nevertheless, some of these are masterpieces which deserve repeat airings. In fact, someone should gather together a list of them... Oh, yeah... Right.
The first example is one of Tim's best songs ever. It was written for The Jonathan Ross Show (back in the days when Jonathan Ross worked for the BBC) and is dedicated to Jonathan's House band who were called 'Four poofs and a Piano'. No, really, they were:
Ruth Davies' show Easter Treat in 2011 also got the Tim Minchin treatment when he followed his brief exactly to deliver a cleanish song no longer than three minute's long:
This one was written for The Big Fat Quiz of the Year and is about... Well in the quiz you were meant to guess what it was about, but the song title does rather give it away...

We're back to Jonathan Ross again, and this time it was just as Wossy's Golden handcuffs keeping him at the BBC were about to be unlocked. Consequently, Tim paid him this fine one-off leaving tribute:

In 2011 Tim was the host for the first ever BBC Comedy Proms, and he started it off in his own inimitable style:

Lastly is a song which was written for, yes, you've guessed it, Jonathan Ross again, but this time while he was working for ITV. However, this one was never broadcast as its content was judged too controversial by ITV's director of television, Peter Fincham. Especially, we presume, as the show was due to go out just before Christmas. Fortunately Tim put it on YouTube anyway, so we still get to enjoy it. It just goes to show that despite it's strait-laced reputation the BBC has got more balls than ITV, and we here at comedy-songs salute them for it.