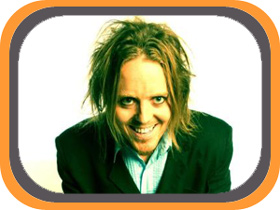 Monday, 6th September 2010
7 best Tim Minchin funny songs
Top comedy songs from the comedy song master
The talents of Australian funny man Tim Minchin are astonishing - he has changed the world of comedy songs forever, just by being so darn good at it. However, you don't need me to tell you that, you can see the proof below.
Let's start with 'If I didn't have you', a song written for his wife. It's a rare talent to be able to turn the objectionable truth about the role of pure chance in how we choose our life partners into a love song, but if anyone can, Tim Minchin can.

Buy If I Didn't Have You by Tim Minchin from 7Digital, Amazon MP3 or iTunes
On a different note, do you find new-age mysticism, mediums, tarot cards and homoeopathy objectionable? You are not the only one.

Buy Storm by Tim Minchin from 7Digital, Amazon MP3 or iTunes
Below Tim concentrates on the inherent wrongness of subjugating a group of people based only on their shared characteristics. Hopefully, soon, with Tim's help, this form of prejudice will be a thing of the past.

Buy Prejudice by Tim Minchin from 7Digital, Amazon MP3 or iTunes
Love is a many-varied thing, and man can bond with pretty much anything. Especially when it's wipe-downable.

Here's a quick song which describes what Tim thinks of the YouTube generation.
The following song I take my hat of to Tim Minchin for. It's a one-off song that he wrote for his guest appearance on The Jonathan Ross Show. Remember he can never play this song again and yet so much effort has been put into it. Amazing. By the way, if you are not familiar with the show, 'Four poofs and a piano' was the name of the house band. I know it seems unlikely, but it's true.
Tim can also do sentimental - Christmas sentimental, despite not believing in it. I dare you not to have a lump in your throat by the time he's through with this one:
Disagree with our choices or have a new suggestion? Let us know!