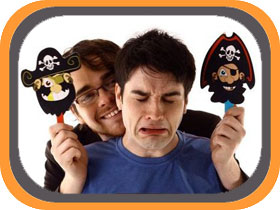 Jollyboat
"Great comic material and winning performances... Jollyboat is a (buried) treasure."
-
Fringeguru.com
.
Ever wondered what it would be like if pirates had written and sung some of the more popular modern rock songs? Well wonder no more, as Jollyboat (aka brothers Ed and Tom Croft) are here to show you exactly what authentic pirate radio would sound like. Here's a clue, Bob Marley's 'No Woman, No Cry' becomes 'No rum, no eye'...
Winners of the 2011 Musical Comedy Award their shows are not all piratey material; in their own words "We write songs about celebrities, keyboard shortcuts or whatever else makes us crack up." This means they cover a wide variety of styles, from the 'Dewey Decimal System Rap' to an RnB styled 'What the Hell Happened to Wednesday?'.
But as they are called Jollyboat, and they often dress up as pirates (apparently this was originally because they were inspired by their love of The Secret of Monkey Island), here's their much acclaimed 'Pirate Medley' (which can only be sung while brandishing a balloon sword)*:
* (Apologies to all those with a bracket phobia)