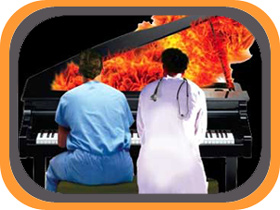 Amateur Transplants
"These songs should not, repeat not, be bought for an elderly maiden aunt."
-
Amateur Transplants
.
Here is a warning. Adam Kay and Suman Biswas, otherwise known as the Amateur Transplants, are not for the faint of heart. To sum them up in a sentence, they are two junior doctors who sing rude songs to familiar tunes. A lot of their creations are really quite sick, filled with foul-mouthed, offensive medical humour and downright snide and nasty remarks. So why, you may ask, are their songs on my site? Well, apart from the occasional wince, they genuinely make me laugh out loud when I listen to them, which is all you can ask of people who perform comedy songs really. I know, I'm a bad man.
They started off with a small compilation which they originally recorded for a student rag week and sold for charity. 50 per cent of all the proceedings of all their albums still goes to the Macmillan Trust. So deep down they must actually be really nice guys. Real deep down.
They shot to internet fame with their song 'London Underground', which has had over 4 million views to date. To the tune of the 80s chart classic Going Underground, this is the Amateur transplants profound explanation of what's wrong with the Tube...

Buy London Underground by Amateur Transplants from 7Digital, Amazon MP3 or iTunes
Fancy catching up on your medical exam revision fast? Well the Amateur Transplants' Drugs Song lists many of the common prescribed drugs to the tune of the Major General's Song from The Pirates of Penzance (rather like Tom Lehrer's Elements song then).

Or you could just forget all those drugs and just get the new new wonder drug 'Paracetamoxyfrusebendroneomycin'. The Amateur transplants tell us all about it via a tune that any fan of Mary Poppins should find rather familiar.

Now, you're probably thinking, apart from that first song with its naughty swearwords, this has all been rather tame... Well, here's a more objectionable sample of their ouvre, enigmatically entitled '(You Look Like Sh*t, When You Wear) Nothing At All':

Some great comedy singers' DVDs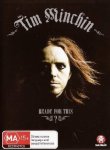 Tim Minchin
Ready For This?

Buy DVD:




Some great comedy singers' books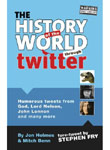 Mitch Benn
The History Of The World Through Twitter

Buy book: