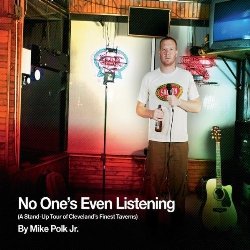 No One's Even Listening
by Mike Polk
Album first released: 2011
Description: Cleveland-based Comedian Mike Polk Jr. takes you on a poorly recorded journey through the finest taverns, libraries, and hotels in Cleveland.
Track listing for No One's Even Listening:
Track
Song title
Length
01.
I Explain Why This CD Sounds Terrible
[02:24]
Buy MP3:
02.
I Don't Shovel
[01:28]
Buy MP3:
03.
One Semester of Spanish Love Song
[02:52]
Buy MP3:
04.
My Family Gave Up On Me And I Made $11,000 Last Year
[02:57]
Buy MP3:
05.
I Wrote Three Letters To My Student Loan Officer
[04:24]
Buy MP3:
06.
Fuck You, Hipsters
[02:15]
Buy MP3:
07.
I Made This Track For the Ladies
[02:40]
Buy MP3:
08.
I Wrote A Letter To My Aborted Child
[04:04]
Buy MP3:
09.
I Love You To Infinity (feat. Ludacris)
[03:13]
Buy MP3:
10.
I Got A Traffic Camera Speeding Ticket
[01:00]
Buy MP3:
11.
I People Watch At The White Trash Beach
[04:53]
Buy MP3:
12.
Am I In A Gay Bar?
[01:57]
Buy MP3:
13.
I Think That I Might Have A Chance
[03:08]
Buy MP3:
14.
I Went To A Gentleman's Club
[04:49]
Buy MP3:
15.
I Went To A Wedding Last Night
[05:17]
Buy MP3:
16.
This Isn't My Worst Gig
[04:36]
Buy MP3:
17.
I Make Love To Women With My Music
[01:47]
Buy MP3:
18.
I Like Little League Baseball And I Have A Shitty Car
[03:34]
Buy MP3:
19.
I Kill Some Time By Reading You The Newspaper
[01:53]
Buy MP3:
20.
Jim Tews' Uncle Addresses The President
[04:45]
Buy MP3:
21.
Cleveland Tourism Songs
[02:33]
Buy MP3:
22.
Thanks for listening! I also sell weed
[01:11]
Buy MP3:
More from Mike Polk
Articles featuring Mike Polk:

Saturday, 21st April 2012

Wednesday, 11th August 2010
Videos of songs by Mike Polk:
A true Father's day tribute from a son who understands the sacrifices his parent has made.
Why doesn't anyone tell that hot girl that she's not behaving very nicely? Mike Polk knows.
A day in the life of a cat
Not everyone can make love all night long.
Two guys sharing a motorbike - what's wrong with that?

Mike Polk
No One's Even Listening

Buy MP3:



Mike Polk
I'm A Stupid Cat

Buy MP3: