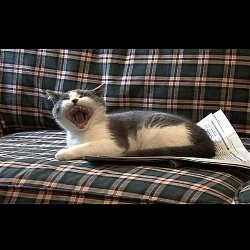 I'm A Stupid Cat
by Mike Polk
Album first released: 2011
Description: Mike Polk describes a day in the life of a cat.
Track listing for I'm A Stupid Cat:
More from Mike Polk
Articles featuring Mike Polk:

Saturday, 21st April 2012

Wednesday, 11th August 2010
Videos of songs by Mike Polk:
A true Father's day tribute from a son who understands the sacrifices his parent has made.
Why doesn't anyone tell that hot girl that she's not behaving very nicely? Mike Polk knows.
A day in the life of a cat
Not everyone can make love all night long.
Two guys sharing a motorbike - what's wrong with that?

Mike Polk
No One's Even Listening

Buy MP3:



Mike Polk
I'm A Stupid Cat

Buy MP3: