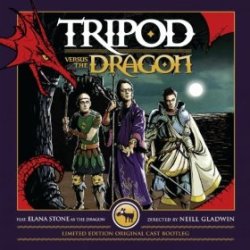 Tripod versus the Dragon
by Tripod
Album first released: 2010
Description: An epic tale of Dragons, Dungeons, Wizards, Warriors and close-harmony singing. Scod, a wizard, Yon, a priest, and Gatesy, a warrior who dreams of being a bard, embark on a quest to map a secret place. Will these idiots finish their quest? Maybe. Will there be unexpected consequences? Probably. An all-too ambitious, gloriously lo-fi adventure. Anyone who thought this was a good idea was living in a fantasy world. Tripod are Simon Hall, Steven Gates and Scott Edgar. Also stars Elana Stone.
Track listing for Tripod versus the Dragon:
Track
Song title
Length
01.
The Smell of Adventure
[02:01]
Buy MP3:
02.
Taking the Life
[03:55]
Buy MP3:
03.
Ivory Tower
[02:16]
Buy MP3:
04.
On Paper
[05:19]
Buy MP3:
05.
Gelatinous Love
[02:00]
Buy MP3:
06.
The Gods Are People Too
[05:07]
Buy MP3:
07.
Don't Feel Bad
[03:22]
Buy MP3:
08.
Heart of a Fighter
[01:28]
Buy MP3:
09.
I Will Still Play
[03:33]
Buy MP3:
10.
Bard
[03:52]
Buy MP3:
More from Tripod
News about Tripod:

Wednesday, 27th April 2011
Videos of songs by Tripod:
Tripod are going to make you happy tonight... they are going to make you feel so right.
Tripod on one of the specific problems with Christmas...
Santa Claus is coming to town! But do we really want him here?
Tripod sing sweet nothings in French. From the 2003 Australian sketch comedy program SkitHOUSE.
The proper way to end a relationship... by SMS.
Some great comedy singers' DVDs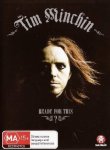 Tim Minchin
Ready For This?

Buy DVD: