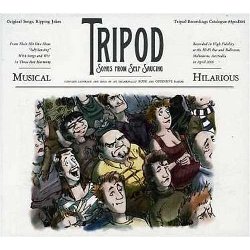 Songs from Self Saucing
by Tripod
Album first released: 2006
Description: Middleborough Road is the bringing together of real musicians playing real music to real funny songs and it won them a real ARIA. With Songs from Self-Saucing, Tripod return to the stage with the three voice, two guitar combo that made them famous. This latest release features the best of their recent catalogue including Too Many Remotes and Lingering Dad.

Captured in front of a sell out crowd at the HI-FI Bar and Ballroom during the final days of the 2006 Melbourne International Comedy Festival, Tripod - Songs from Self-Saucing shows a comedy group at the height of its power... again. Its been over nine months in the making and is proving to be the most anticipated live album since KISS ALIVE III!
Track listing for Songs from Self Saucing:
Track
Song title
Length
01.
Autistic
[04:33]
Buy MP3:
02.
King Kong
[05:02]
Buy MP3:
03.
Tall Man
[03:36]
Buy MP3:
04.
Too Many Remotes
[04:24]
Buy MP3:
05.
Lingering Dad
[02:20]
Buy MP3:
06.
Theme from MASH Guy
[03:45]
Buy MP3:
07.
No Daughter of Mine
[01:40]
Buy MP3:
08.
Forgive Me Father
[03:08]
Buy MP3:
09.
Suicide Bomber
[03:07]
Buy MP3:
10.
Gonna Make You Happy Tonight
[05:01]
Buy MP3:
More from Tripod
News about Tripod:

Wednesday, 27th April 2011
Videos of songs by Tripod:
Tripod are going to make you happy tonight... they are going to make you feel so right.
Tripod on one of the specific problems with Christmas...
Santa Claus is coming to town! But do we really want him here?
Tripod sing sweet nothings in French. From the 2003 Australian sketch comedy program SkitHOUSE.
The proper way to end a relationship... by SMS.
Some great comedy singers' DVDs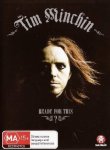 Tim Minchin
Ready For This?

Buy DVD: