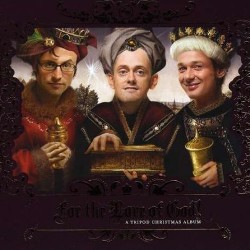 For the Love of God!
by Tripod
Album first released: 2008
Description: Scod, Yon and Gatesy are Tripod - one of the most popular and prolific comedy acts working in Australia today. 'For the love of god!' is a comedic spin on the stories of Christmas. All through this album is the nostalgia of Christmas records from the 50s, 60s and 70s - all sorts of lush instrumentations including string quartets, swinging horns, Phil Spector-meets-Beach Boys orgasms of sound, right up to full orchestral arrangements. This is a musical feast. Whether you are hearing about Fabian the forgotten reindeer or the shepherd that missed the birth of Christ, this album rarely has a dull moment!
Track listing for For the Love of God!:
Track
Song title
Length
01.
O Holy Night
[02:19]
Buy MP3:
02.
I Hate Your Family
[05:02]
Buy MP3:
03.
Christ Is Born
[01:51]
Buy MP3:
04.
The Only Shepherd
[04:03]
Buy MP3:
05.
Fabian
[03:45]
Buy MP3:
06.
Ring Ring Bells
[01:06]
Buy MP3:
07.
If Billy Bragg
[04:04]
Buy MP3:
08.
Santa's Papers
[03:29]
Buy MP3:
09.
Nothing to See Here
[02:01]
Buy MP3:
10.
Someday the Lord
[03:50]
Buy MP3:
11.
The Homophobic Christmas Tree
[03:32]
Buy MP3:
12.
A Pauper's Heart
[00:58]
Buy MP3:
13.
The Little Drummer Boy
[04:43]
Buy MP3:
14.
The Stuffing
[03:54]
Buy MP3:
15.
Meet Me In the Middle of the Air
[03:18]
Buy MP3:
More from Tripod
News about Tripod:

Wednesday, 27th April 2011
Videos of songs by Tripod:
Tripod are going to make you happy tonight... they are going to make you feel so right.
Tripod on one of the specific problems with Christmas...
Santa Claus is coming to town! But do we really want him here?
Tripod sing sweet nothings in French. From the 2003 Australian sketch comedy program SkitHOUSE.
The proper way to end a relationship... by SMS.
Some great comedy singers' DVDs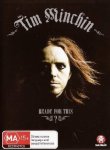 Tim Minchin
Ready For This?

Buy DVD: