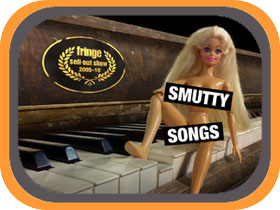 Friday, 9th March 2012
Amateur Transplants on tour again
'Adam Kay's Smutty Songs' coming to a theatre near you
Continuing on from their December sell out London shows, you can now see the Amateur Transplants across the country from the end of March. Now consisting of just Adam Kay (it seems Suman Biswas is too busy healing people to get back on the keyboard) he is going on tour alone to sing his 'Smutty Songs' at you from venues across the UK.
Just a word of warning, though, if you haven't seen them before they are not for the faint-hearted or those of a delicate constitution. As Tim Minchin said, "Adam has devalued the currency of swearing. I can't say c*** any more". The Telegraph too described the Amateur Transplant's music as "Filthy at best, depraved at worst - and great, guilty fun."

With songs taken from the albums 'Fitness to Practice' and "Unfit to Practise" and "In Theatre" it's likely you'll have the same response as Stephen Fry to this most likely eye-opening, if not eye-watering evening: "This made me very, very happy".

You can get some tickets for the tour on Ents24, or from the Amateur Transplants website. Apparently, according to the Amateur Transplants, 'If there's not a date where you live, it's probably because of a restraining order preventing Adam from going there...' Here are the tour dates:
31st March - Glasgow - Citizens Theatre
19th April - Newbury - Arlington Arts
21st April - St Albans - Alban Arena
24th April - Burnley - Mechanics
25th April - Morecambe - Platform
27th April - Southend - Palace Theatre
28th April - Exeter - Corn Exchange
1st May - Hayes - Beck Theatre
2nd May - Aldershot - Princes Hall
3rd May - Epsom - Playhouse
4th May - Telford - Oakengates Theatre
5th May - Cheltenham - Town Hall
6th May - Bath - Komedia
7th May - Warwick - Warwick Arts Centre
9th May - Norwich - Playhouse
11th May - Andover - The Lights
12th May - Leeds - City Varities
13th May - Salford - Lowry
15th May - Maidenhead - Norden Farm
17th May - Redhill - Harlequin
18th May - Swindon - Wyvern Theatre
19th May - Folkestone - Quarterhouse
23rd May - Basingstoke - The Haymarket
24th May - Edmonton - Millfield Theatre
25th May - Milton Keynes - Stables
26th May - Colchester - Arts Centre
27th May - Croydon - Ashcroft Theatre
29th May - Durham - Gala Theatre
30th May - Derby - Assembly Rooms
31st May - Brighton - Komedia
1st June - Dunstable - Grove Theatre
2nd June - London - Bloomsbury Theatre
6th June - Yeovil - Octagon Theatre
7th June - High Wycombe - Town Hall

Apparently, if you ask Adam nicely, he'll play you the Amateur Transplant's London Underground song, shown below it all it's glory:

Buy London Underground by Amateur Transplants from 7Digital, Amazon MP3 or iTunes
Some great comedy singers' DVDs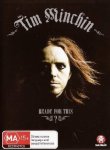 Tim Minchin
Ready For This?

Buy DVD:




Some great comedy singers' books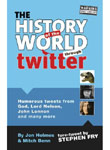 Mitch Benn
The History Of The World Through Twitter

Buy book: