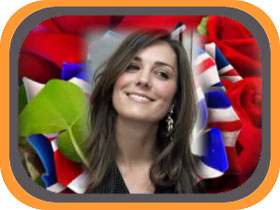 Sunday, 17th April 2011
Royal Wedding comedy songs
MJ Delaney, the Amateur Transplants and Emmy the Great celebrate Kate and Will's big day
It's almost that time again: when a member of our beloved monarch's family chooses to get hitched and we all rejoice (by having a day off work).
Some people celebrate with street parties, some people celebrate by waving little flags, and yet other people celebrate by playing musical comedy tributes to the happy pair.
As proof let's start with M J Delaney's Bollywood Royal wedding. You may remember her previous song Newport State of Mind, her Empire State of Mind parody with a Welsh flavour, which rode high on the YouTube charts until evil record companies asked for the video to be removed.
Now, commissioned by the Guardian, she's turned her attention to the royal wedding, and has decided to give it a decidely Bollywood air...
Also commissioned by the Guardian, we have a lament from Emmy The Great called 'Mistress England'. It's for all the mothers out there who were grooming their child to take Kate Middleton's place... and who now have to face the fact that it's too late...
Meanwhile the Amateur Transplants have their own special way of welcoming Kate Middleton to the nation's hearts:

Buy Scandal in the Windsors by Amateur Transplants from 7Digital, Amazon MP3 or iTunes
Even Little Howard seems to have got the Kate Middleton bug:
Buy Wait, Kate! It Is Not Too Late! by Little Howard from 7Digital, Amazon MP3 or iTunes
Disagree with our choices or have a new suggestion? Let us know!